Dear Visitor,
Welcome to the website of the Embassy of Hungary in Kuala Lumpur.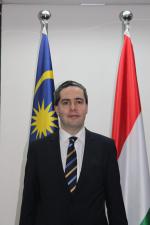 Hungary and Malaysia have enjoyed close bilateral relations for many decades. With the recent re-opening of our Embassy in 2015, we aim to elevate the co-operation between the two countries to a higher level. The close political ties between Hungary and Malaysia provide a solid basis for an enhanced partnership in the fields of trade and investment, education, science and technology, culture, tourism and sports.
It is our aim to support the establishment of new forms of co-operation between Hungarians and Malaysians. I believe that the two countries offer excellent opportunities for closer business relations, and I hope that many successful common projects will be realised in the years to come. At the same time, Hungarian higher education institutions offer high-quality programmes for foreign students, and I hope that over the years, we will see an increasing number of Malaysians choosing to pursue their studies in Hungary.  
We also actively promote Hungary as an attractive tourist destination, a country with rich cultural and architectural heritage, beautiful landscapes, exciting gastronomy and wine traditions, and an endless variety of programmes for all generations. I hope that more and more Malaysian tourists will discover Hungary and spread the word about their memorable experience after returning home.
Should you need consular services, please contact our Embassy, and my colleagues will provide you the necessary information and professional assistance.
I hope you will find our website informative and enjoyable. Should you have any enquiries, please do not hesitate to contact me or my colleagues.
                                                                                                              Attila Káli
                                                                                                             ambassador